Don't invite me to your parents' house.
Additional Resources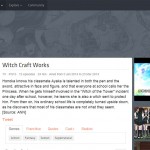 I've been trying to figure out what to do with this blog ever since I started using Hummingbird last fall. So, I decided to try an idea of mine called Lesson Reviews. Essentially, it's more of a "what I learned from X anime" than a review, but the thing is, there will be good and […]
Y has been hooked on anime since the mid-nineties, expanding his interests after the new millennium into other pop culture (POPUKARU) media including manga, ongaku, movies, zasshi, and terebi. After taking a 2 year hiatus in 2009 to restructure his finances (i.e. get out of otaku instigated debt, shiku shiku), Y is back and ready consume POPUKARU media at a leisurely pace.